I saw this great threading activity a while ago and decided to make it for Pixie. It is easy to make. This makes a perfect threading activity for Montessori trays.
All you need is a pack of silly straws, different coloured felt (I bought 11 different colours), printouts of different shapes, scissors and sewing pins.
Cut out each shape and pin to the felt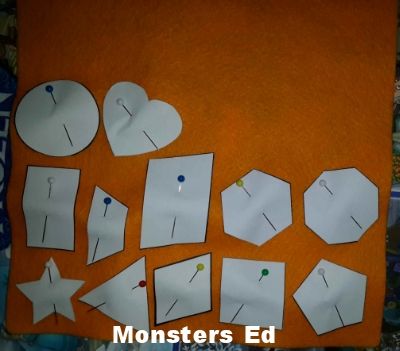 Cut out each shape, cut a slit into the centre of each shape and store in a tray. Pixie just loves this activity. I gave Pixie all the different types of silly straws and found that the wavy straw is the best and doesn't damage the shape as it is threaded onto the straw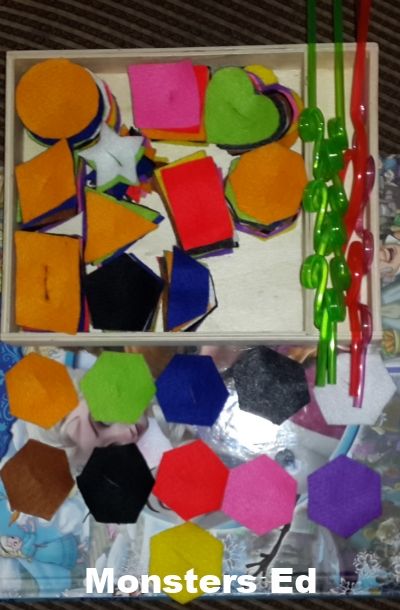 Below are more DIY threading activities that are easy to make.
Halloween Bracelets from The Activity Mom


With a pipe cleaner cut in half and a bowl of pony beads, kids can make Halloween bracelets! It's a great fine motor activity, and as above, you can add in the patterning element if your tot is ready. Plus, kids always love to be able to walk away with a creation!
Pipe Cleaner Activity to Keep Kids Busy from Hands On as We Grow


Pipe cleaner and colander threading
Weaving Board from Journey into Unschooling


You know those lacing toys for preschoolers — the ones with the pre-cut shapes and holes that you weave a shoelace through? We have those in vehicles and animal shapes and Little Sister likes to play with them every now and then. The problem is, it is a tad bit limiting when all you can do is follow the outline. What if you wanted to lace around the edges, over several holes, back into the same hole, in circles, triangles, and parallelograms? Well, you would need a whole lot more holes.
Baby Bracelet Making from Art 4 Little Hands


Pipe cleaners and pony beads to make bracelets
Button Threading from Diapers to Diplomas


Threading coloured buttons onto matching pipe cleaners
Make Your Own Lacing Cards from Totschool


I was inspired by these homemade lacing cards on Sorta Crunchy.
How to make Foam Lacing Shapes from Powerful Mothering


Lacing provides a great opportunity for fine motor skills and makes for a wonderful busy bag. I recently saw a pack in the toy store in the city and thought my 4 year old would love to give that a try. Unfortunately as an imported toy (we live in Ecuador) the price was a bit too much for my liking. So we made our own!
Fine Motor Pincer Grasp Color Match from Sugar Aunts


This was a fun play time activity for the little ones in our house. We had fun with fine motor play while working on colors, matching, and fine motor skills.
Math Activity from Kids Matter


We have been trying to work on our counting skills at my house so I whipped up a little activity for him to work with.