Heather from One Step at a Time and Laura from Harrassed Mom hosted this year's first Mom Blog Meetup at The Olive Branch Cooking School at the Free Range Lifestyle Centre in Fourways, Johannesburg this past Saturday.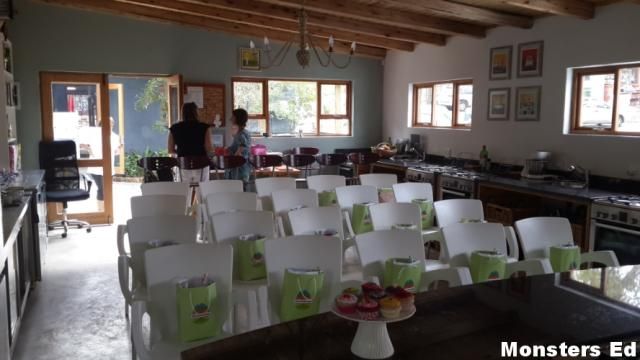 20 Mom Bloggers from Gauteng attended the get together and we all had a fantastic time networking, eating and listening to great, healthy lifestyle, speakers. Not to mention the incredibly AWESOME goodie bags we were met with!
I met and spent the entire morning chatting to these wonderful ladies:
Belinda from Making Mountains. Belinda started Making Mountains in 2012 as a way to record her thoughts as she works, lives, loves and parents: shaping the little molehills that are her kids into becoming Mountains.
Salome from Yellow Lab. Yellow Lab is a guy and a girl who fell in love. They are Johannesburg based photographers and designers, Jonathan and Salomé Nourse who want to live in a world where their art captivates and inspire others. When they are not immersed in photography or designing, you will find them outdoors spending time with their fur babies Lily and Poppy and making silly faces at their little boy Odin. They believe in love and in family. Their job is to document you with the people in your life who you love, so that you can remember this amazing time in your life forever. They want to capture your love in images.
Chantal from Toppies se Vrou. Chantal is a work-from-home, stay-at-home mom with a small accounting business. She loves her life, her kids and her Toppie, her wonderful husband of almost 5 years.
Lebo from For His Love…..
Mariette from Little Interiors.
Portia from A Well Heeled Woman. Portia is a mom of two, happily married to Mr M a great husband . She blogs about the life of a woman in the fast lane, career driven, mother of 2 active boys, studying, travelling, reading while wearing gorgeous heels. This is the world of the well rounded woman.
Christine from The Kenny Family. Christine is a mommy of 16 month old twin boys, full time Software Developer in the Financial sector and wife to her high-school sweetheart. As a family they enjoy lazy afternoons in the back yard and taking long walks in the evenings. Her blog is filled with their day-to-day lives and some useful tips and tricks related to raising twins.
You can reach her at The Kenny Family, Facebook and on Twitter
Shaney from You, Baby and I. Mom who wants to see the world with her toddler. Blogger who connects moms to amazing brands.
Claire from Entrepreneur Mom (I have known Claire for quite some time, she is also a homeschooling mom). Claire is a single mom to a gorgeous little boy and determined to create the best life for them both! Rather than listen to what everyone else said was right (ie: working 9-5 to earn a pay cheque, leaving her son at school for up to 11 hours a day), she left the high flying corporate world to first start her own PR business. She then launched Entrepreneur Mom to help other moms learn how to start, grow, and create awareness of their own home business.
Ursula from Skimming Stones. Her Ursula but friends call me Sula. She loves reading, writing, nature, travel, music and life. Her passion is poetry although she has had other works published. In 1996 she founded LiPS (The Durban Live Poets Society) which continues to thrive with a life of it's own since she left Natal in 2000. She grew up in a creative environment, her Mum is an artist and her Dad is a photographer . She is married (for the 2nd time) and has 4 children born in 89, 91, 07 & 10.
Heather from SA Mom Blogs and One Step at a Time (I have known Heather for many years, she is Papa Steve's cousin). Heather writes about motherhood and fertility on One Step at a Time.
Laura from Harassed Mom and Blog Share Connect.
Tracey from My Real, Real Life.
MeeA from MamaMeeA.
Sam from The Musings of My Life.
Jozi from The Jozi WAHM's Guide to Everything. After a Master's degree and several years engaged in corporate politics, Jozi made the monumental decision to leave her well-paying but extremely demanding banking job in order to spend more quality time with her family. Jozi is now a work at home mother who lives, works and plays in a busy and chaotic Johannesburg home together with dear husband 'A', four-year-old daughter, 'Noodle' and one year old 'Squish'.
Cat from Juggling Act of Life. Mommy to a sassy preteen, busy twin boys of 7, and elderly Labrador and a strapping young labby lad they adopted from Labrador rescue. Dedicated wife and architect in her daytime world.
Nadia from Fun with Mama.
To end off the meet, we had a few lucky draws and I won this fantastic NUK hamper from Artemis Natural Products. I'll be writing a review on all of these products in the near future, watch this space.
The goodie bags were filled with great products: Salad dressing from The Lot Restaurant, biscuits from Not Bread Alone bakery, coffee beans and a voucher from Fresh Culture Craft Coffee Roastery, voucher from Clamber Club, voucher from Pangolin Toy Store, voucher from Calico Rose, Thermo Sensitive spoon and Monkey Plush Keyring from Babymoov, Food Pouch from Ella's Kitchen, voucher from Reusable Pouches, wine from Tangled Tree, sunglasses from OV Optics, Food Pots from NUK South Africa, Baby Barrier Cream from Beautiful Earth, Treat Box from Baby Tastes and a voucher from Babygroup.
The prizes were: a Hamper containing an Ella's Kitchen Cookbook and Avent feeding bowl from Ella's Kitchen, a hamper from NUK (which I won, YAY), toddler bamboo blanket from Jules and Milly, cooking course from The Olive Branch.
The venues were sponsored by Free Range Lifestyle, The Lot Restaurant and The Olive Branch Cooking School
The name tags, bags, agendas, notebooks and pens were sponsored by Gumtree
The speakers were Preethi Mistri from Coke introduced Georgia Tores from Exercise is Medicine South Africa, Nicqui Grant and Margie Vally from Olive Branch Cooking School.
Georgia's talk was very enlightening. Exercise is Medicine South Africa's aim is to educate medical professionals on exercise in medicine and heath promotion through exercise through Govenrment and Medical Aids (medical insurance companies). She suggested that we find out which physical activities our children like and promote it at home. For example, if they like running around after dogs, get one (or another one) for your child. If your child likes to climb, buy a jungle gym, etc. Exercise does not mean having to engage your child in an exercise routine for a set amount of time a day. Children learn through play, and what better way to build a fort than on a jungle gym?
The WHO have the following to say about exercise in children
In order to improve cardiorespiratory and muscular fitness, bone health, and cardiovascular and metabolic health biomarkers:

Children and youth aged 5–17 should accumulate at least 60 minutes of moderate- to vigorous-intensity physical activity daily.
Amounts of physical activity greater than 60 minutes provide additional health benefits.
Most of the daily physical activity should be aerobic. Vigorous-intensity activities should be incorporated, including those that strengthen muscle and bone*, at least 3 times per week.

*For this age group, bone-loading activities can be performed as part of playing games, running, turning or jumping.
In this day and age, 80 % of children are not meting this criteria and 75 % of the day is spent sitting. Goergie recommends that you stand for 5 minutes every hour toimprove the endothenial lining of your blood vessels. You can read more on endothenial dysfunction and the effects of sitting. I am in the process of researching standing desks, so keep an eye out for that post.
No other tool increases motility better than exercise. A fit obese individual will outlive a thin unfit individual. Reduce sitting by: limit screen time (TV, PC, Tablet, etc) to 1-2 hours a day and offer active alternatives (balls, hoolahoops, bikes, jungle gyms, trampolines).
Nicqui Grant is a registered Dietician in Private Practice. She is the author of The Ultimate Diet Solution Cookbook Integrative Med approach. She gave a fascinating talk on integrated medicine and the benefits on a healthy, tailor made, diet. It opened my eyes to the benefits of certain diets are and what are considered healthy carbs and fats.
Margi Vally did a cooking demonstration on food for kids. They were quick, easy and oh so yummy. I'll be sharing all those fantastic recipes on a separate post tomorrow.
Product demos were given by: Babymoov, OV Optics and NUK.
Keep an eye out for my review on the new, to South Africa, Real Kids Sunglasses from OV Optics.