Sensorial activities are by far my favourite tupe of activity to plan for the children. Koko, in particular, has always enjoyed these activities the most. He is a kinesthetic and tactile learner.
Sensory activities are not just limited to sensory boxes, but is something your child is constantly doing.
Simple activities like baking or cooking are perfect for little ones. Who doesn't love making cookies with momma?
Messy play is a HUGE favourite here, the kidlets are always dirty, LOL.
Goop, edible finger paint, finger painting, play dough, stamping and exploring are some of the things the kids do regularly.
Sensory boxes are fairly simple to put together. Coloured rice and pasta, lentils and toys are what we generally use for our sensory boxes. I also use sandpit sand and water beads to mix things up a little. Beading boxes are something we have available for the kidlets to explore daily. I have a few different boxes that I swap out regularly to keep things "new" and different. You can find recipes for making your own coloured rice or pasta in my Pinterest boards below.
I made Pixie an eye spy box with rice and different shaped beads. I should have used a bottle instead, it didn't last as long as it could have.
We made the kidlets a simple light table with a clear rectangular container and white Christmas lights. This is a great activity for dark, miserable, rainy days.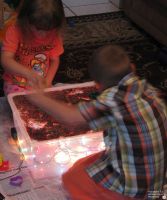 Science experiements are also great sensory activities. A few years ago, Noo did a water erosion experiment which is a perfect example of a sensory experiment.

Follow Momma Jo's board Sensory on Pinterest.


Follow Momma Jo's board Arts/Crafts/Sensory recipes on Pinterest.


12 Months of Montessori Learning Posts:
January: Practical Life
February: Geography
March: Language Arts
April: Botany