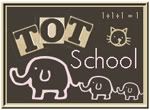 If you have just joined us on our Totschool journey, welcome. I decided to split our Little Monster School posts into Little Monster Totschool and Little Monster Preschool. This way its easier for me to track each of their development.
This month's theme is Pretty Bugs. This week I kept forgetting to charge the camera batteries, so I only got photos of 2 days, LOL. I blame it on my preggy porridge brain.
She just loves her Pretty Bugs activity book.
Matching Pictures. She purposely mismatches a picture and will tell herself "that not right" and fix it, its so darn adorable.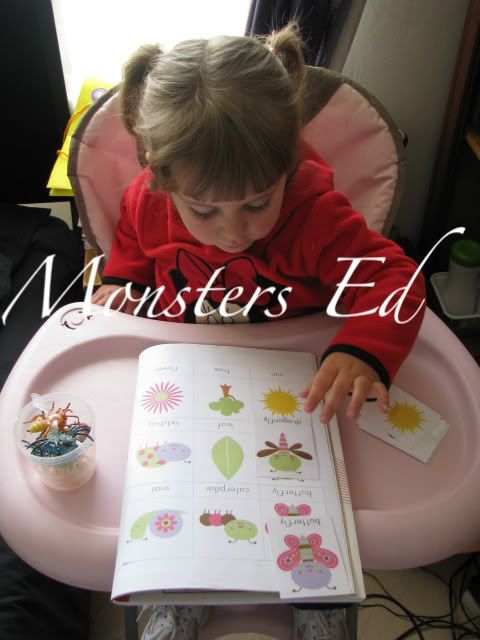 Colouring pictues.

Making a pretty picture of bugs on and around a flower for Daddy's desk at work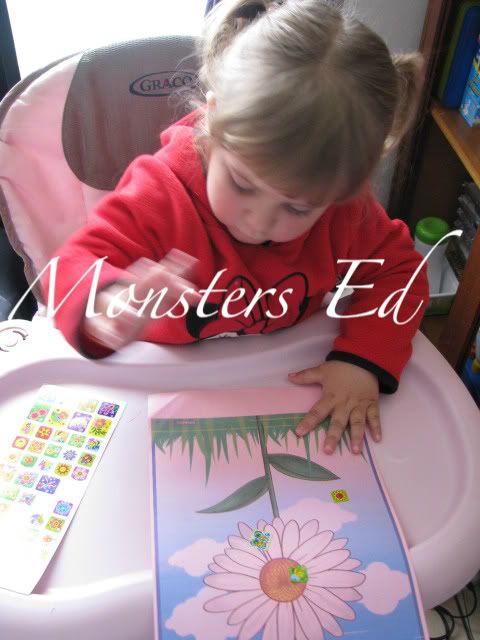 The finished picture. I bought these cute sparkly stickers at The Crazy Store.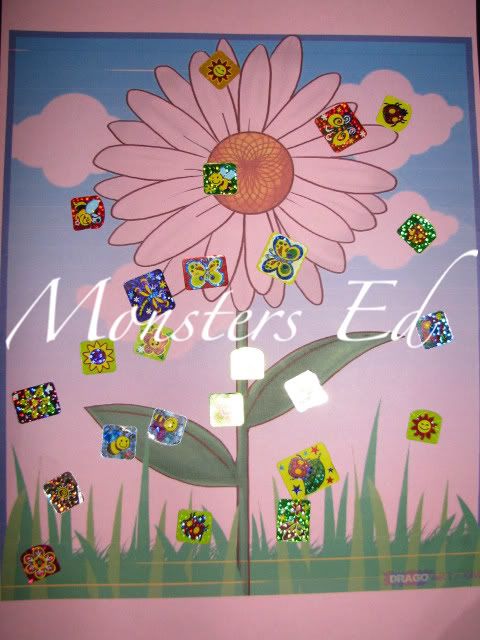 Split Pin Bugs. I downloaded these from Sparklebox.
Ladybug, she really loved this one.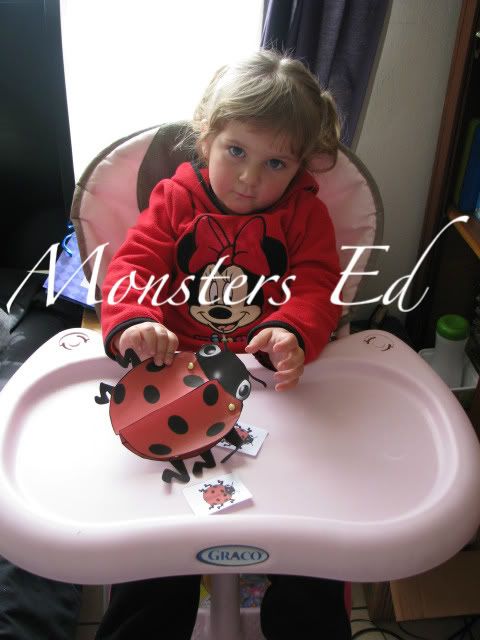 Ant, she wouldn't even touch this one, LOL. She is such a girl.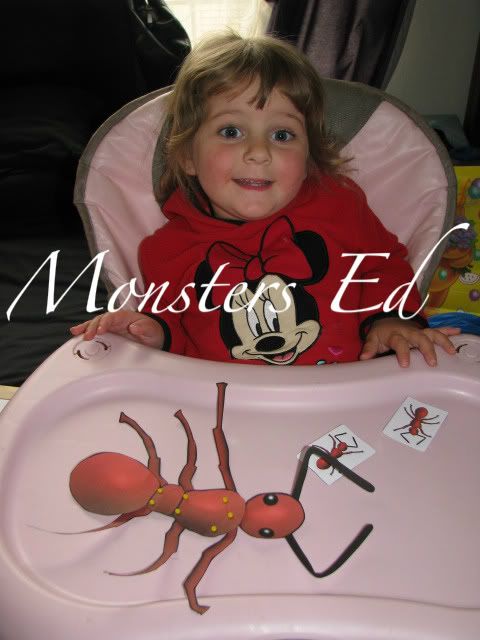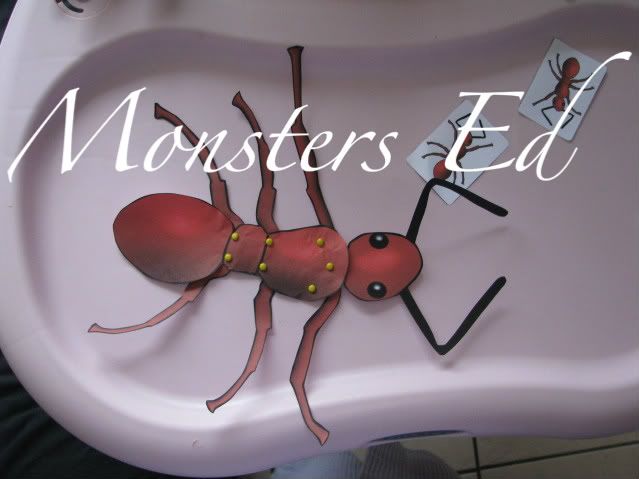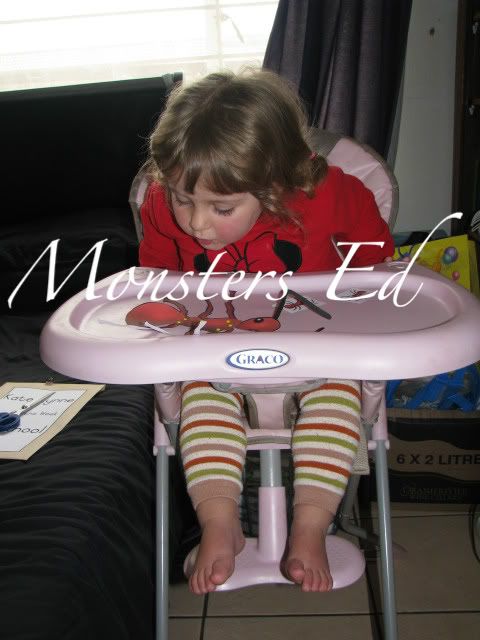 Sensory box. I finally found her some girly glittery bugs at Reggies and added them to her green sensory box. I think this may be her favourite activity after lessons. She will sit and play with the contents of the box for ages.

I added a funnel this week, she was absolutely fascinated by it, she even used it upside down to blow the rice out of the container *sigh*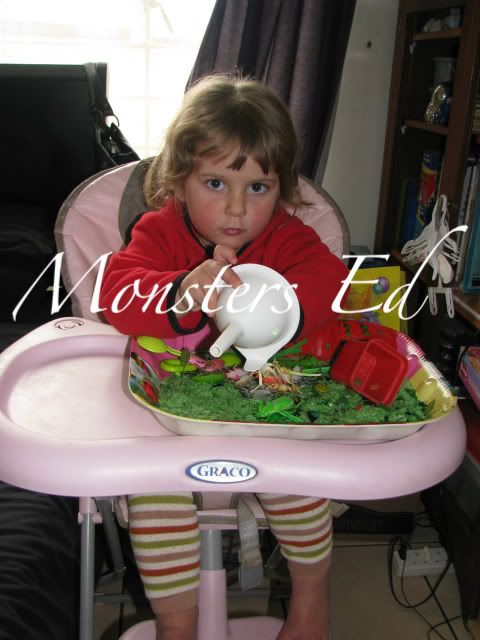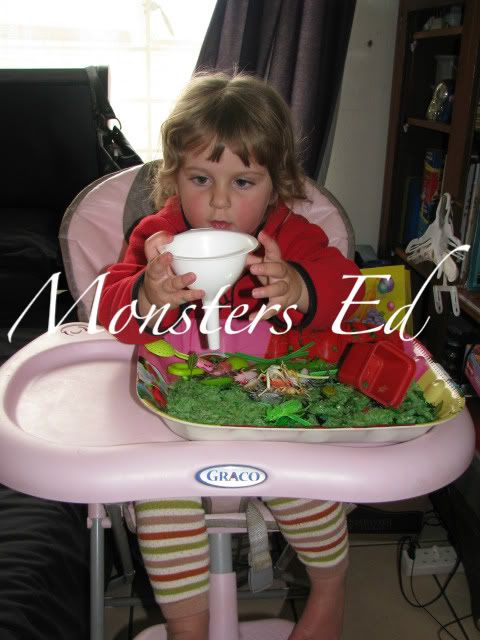 I've been working on a few projects for her as I have been struggling to find affordable girly bug goodies in the stores and craft supply stores. I finally finished this one this week (we'll be using them the week after Father's day *watch this space*). I downloaded/printed off a few bug colouring in pictures and used them as stencils to trace the outline onto A4 foam sheets and cutting them out. She loves them and sits and looks and plays with them for ages. I sat on my bed and did these, 2 reasons, I pinned the "stencil" through the foam sheet and into the mattress for prevent the stencil from moving and once I had finished outlining the bugs, I could sit comfortably and cut them out while sitting under the blankets, LOL.
The "stencil" pinned through the foam and onto the mattress.

The finished products (ladybird, caterpillar, ants, dragonfly, spider, bee, butterfly)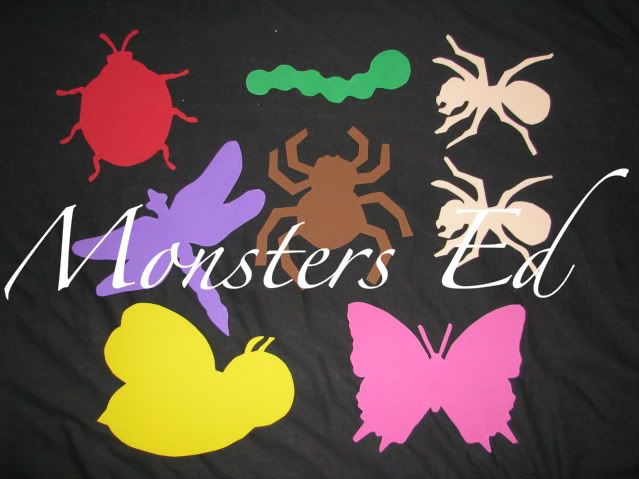 A photo with my phone to give you an indication as to the size of the bugs.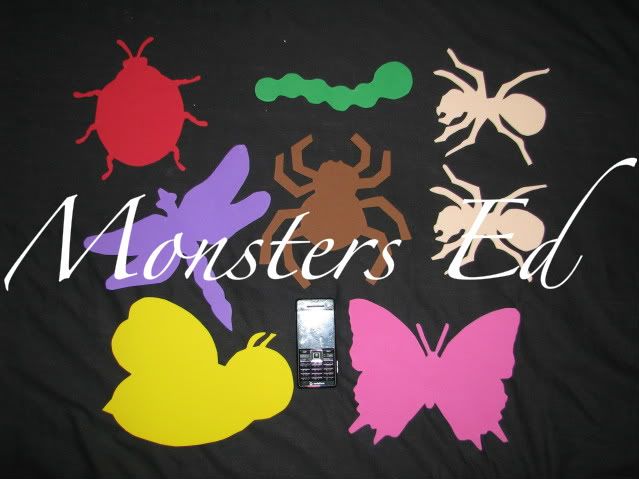 Momma's Favourite
Looking at her split pin ant, but totally refusing to touch it, LOL.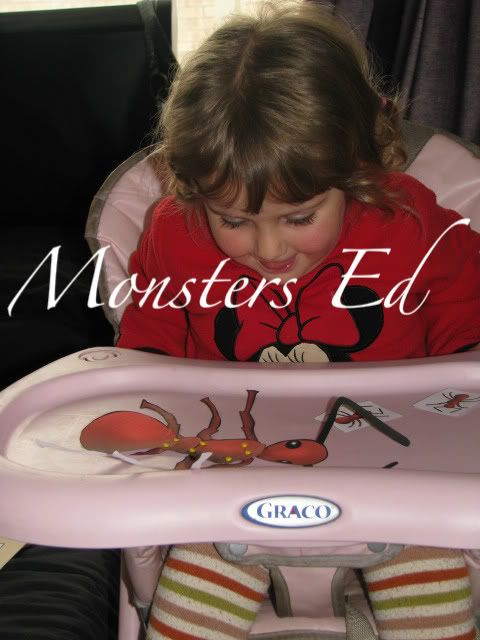 LOL, I just noticed that Fifi is wearing the same tracksuit top in both sets of pictures. I promise she does have others, she just LOVES Minnie Mouse 😉
Previous Posts:
Little Monster School ~ 1
Little Monster School ~ 2
Little Monster School ~ 3
Little Monster School ~ 4