Since we live in a small townhouse and space has always been an issue for us. Since Noo has gone back into the school system, I now have a little more space for the little kidlets' school stuff.
Our school area is in our living room, separated by a double couch. Its not the ideal setup, but we make do with the space we have.
Koko's workstation. For some reason this area is very dark, hence the desk lamp. He is stationed between Fifi and the big bookshelf.

This is Fifi area. Fifi's little desk is actually a water table with a lid. It currently holds a substantial amount of rice for sensory play. Glued to the top of the lid are little cupcake numbers to help her with number formation. Fifi sits on a little foot stool.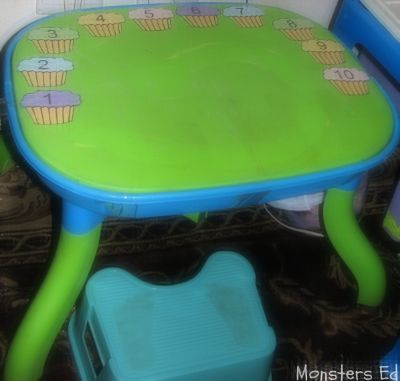 This is Pixie's work area. The little red "desk" was my dressing table as a child. The little wire vegetable rack holds the activities that Pixie is currently using (our version of tot trays). Behind Pixie is our small bookshelf that is still being reorganised.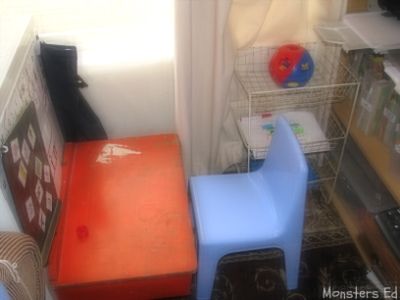 Our big bookshelf. This book shelf holds all our book subscriptions, additional manipulatives, flashcards, books, etc that aren't used as regularly. On the top of the bookshelf is our microscope, weather station, My Farm Animal books, letter pointers, Bendaroos, Real-life Bugs & Insects display cases and Precious Rocks, Gems and Minerals display cases. Next to the Bookshelf are Koko and Fifi's workboxes with the wooden puzzles, My Animal Farm animal set, Tot School and the theme of the month storage box.

My desk with my computer is between Pixie and the big kidlets.
All in all, this area measures approximately 2 x 4 meters.