To close off our Mom Blog Meetup, Margy Vally from The Olive Branch Cooking School shared some Kid Friendly Recipes. These were so quick and easy to make.
Frozen Mango and Yoghurt on a Stick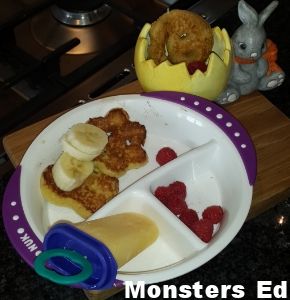 Ingredients:
300g full cream yoghurt plain
2 medium mangos, peeled, pitted and cut into chunks
Method:
Place into a processor and blitz until smooth. Pour into ice cream moulds put a lolly stick into each mould and then freeze until required
NB You could also use strawberries or plums
Fruit Kebabs

Quick and easy just ball out your fruit and add to a kebab stick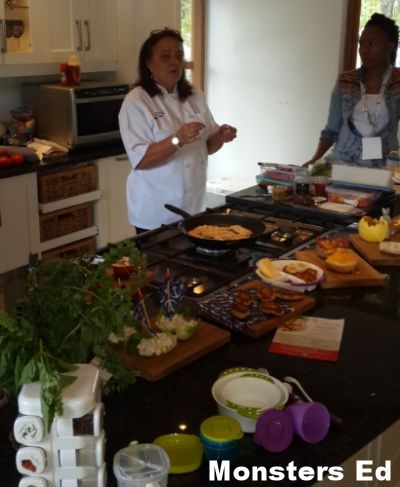 Eggy Toast with Syrup and Banana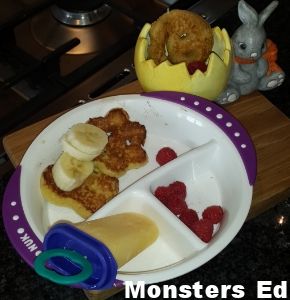 Ingredients:
2 slices bread white or brown
1 egg, beaten, seasoned with sea salt
20g butter
cinnamon and sugar
Drizzle of Syrup
1 banana, peeled and sliced
Method:
Cut out shapes you desire. Dip into the beaten egg. Melt butter in a frying pan and gently fry until golden. Place onto dish sprinkle with cinnamon sugar , drizzle with syrup and topped with sliced banana.
NB You could also use raspberries
Chicken and Corn Lettuce Boats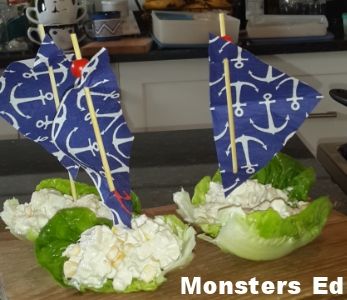 Ingredients:
Filling
60g chicken, cooked and diced
30ml mayonnaise
Squeeze of lemon juice
10g frozen sweet corn
½ tomato, diced
½red pepper, diced
1 spring onion, diced
sea salt and black pepper
6 iceburg lettuce leaves
Method:
Mix all filling ingredients together and place into the lettuce leaves. Make a little sail for your boat with a napkin and cocktail stick.
NB You could use Tuna or salmon instead of chicken
Fishy Cakes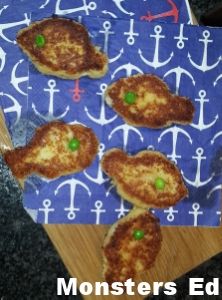 Ingredients:
200g cooked hake (free from skin and bone)
200g mashed potatoes
1 yolk
1 egg
25g flour
50g fresh white bread crumbs
Method:
Combine the fish, potatoes and egg yolk. Add salt and pepper. Make into fish shapes. Coat with flour, egg and breadcrumbs. Deep fry for 2-3 minutes. Add a frozen pea for an eye.
NB Could also be crab, salmon, or other white fish
Chicken Goujons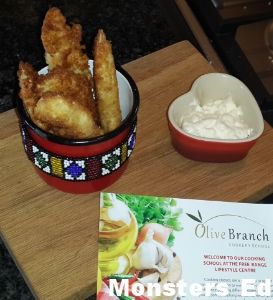 Ingredients:
200g chicken breast cut into 10cm thick long strips
50g cake flour
2 eggs Beaten
100g fresh breadcrumbs
3 Tbsp mayonnaise
A squeeze of lemon juice to taste
salad leaves to serve
Method:
1. Season the chicken.
2. Coat chicken with flour, then the beaten egg and finally the breadcrumbs.
3. Heat up a frying pan of oil and gently fry the Goujons until golden brown
4. Mix the lemon juice and mayonnaise and seasoning.
5. Serve with the Goujons and a few salad leaves.
Rainbow Salad

Salad
2 tomatoes, large diced
1 cucumber, large diced
lettuce leaf, shredded
1 yellow pepper, deseed, cut into large dice
2 carrots, peeled and cut into batons
½ cup full cream yoghurt
2 tablespoons chopped basil
2 tablespoons chopped parsley
Method:
Place yoghurt in a bowl and mix in the basil and parsley
Layer your vegetables one at a time in a see through container. Put a container at the side to dip the vegetables
Mighty Mice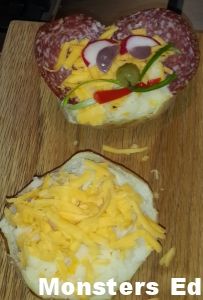 Ingredients:
4 large potatoes, washed and pricked
200ml cooked savoury mince or 200g can tuna drained
25ml butter
10ml milk
salt and pepper
100ml cheddar or mozzarella cheese grated
See point 5 for making face
Method:
1. Preheat the oven to 190°C Place the potatoes onto a baking tray. Bake in the oven for 45minutes to 1 hour.
2. Cool the potatoes, cut in half horizontally.
3. Scoop out flesh and place into a bowl add the butter, milk, salt and pepper and mash well together.
4. Stir in the mince or tuna. Place mixture back into the potato skins and sprinkle with cheese. Bake for a further 15 minutes.
5. Make your mice faces on top of the potato while it cools down enough to be eaten. Use raisins for the eyes, salami for ears, red pepper for mouth, spring onions for whiskers, parsley for hair and anything else you may have
About Olive Branch
Margy qualified as a chef in the UK, prior to moving to South Africa. Since then, her professional career has revolved around food with both major multinational and local companies, including the Westin International Hotel Group. She has continued to develop her passion for food – ranging from the traditional to current trends, and is also currently responsible for Recipe Development with 'Plum' food magazine.

Margy looks forward to sharing this passion for food with you as the Executive Director/ Chef of Olive Branch Cooking School. Her style of simple, smart and seasonal recipes are sure to inspire you – food for every cook, every food lover, every day and every occasion.