The Hearts for Home Blog Hop is a weekly blog hop that begins every Thursday morning. The theme of this blog hop is showing that our hearts are for our homes. Post topics include: homeschooling, marriage, parenting, homemaking, faith, budgeting, crafts, DIY projects and more! We would love to see you link up your posts. We feature the most popular post and a few of our favorites every week! Will you be one of the next Featured Bloggers?
Not a blogger? That's okay! This blog hop will be your one stop location to finding ideas and inspiration for fulfilling your role as a wife, mother and follower of Christ. We are so glad you have stopped by!
Meet my cohosts here!
Featured blogger with the most clicks last week ~ The Christmas Movie I Watched the Night My Son Died (Ask Latisha)

Story Time: 'Twas the Night Before Christmas (Lit Mama)

Preschool Lesson Plan Christmas (Learning2Walk)

3 Easy Christmas Tree Crafts for Kids (Learning2Walk)

Preschool Sensory Activities: Christmas Scented Playdough (Learning2Walk)

Christmas Counting to 3 Busy Bag (Life Over C's)

Gingerbread Man Maps Writing Center (Pre-K Pages)

Play Dough Gingerbread Men Invitation (Pre-K Pages)

Christmas Scissor Cutting Skills (Pre-K Pages)

Free Christmas Handwriting and Coloring Page for Preschool (3 Boys and a Dog)

DIY Christmas Frames (Do It All Working Mom)

Tinsel the Elf on the Shelf has arrived! (Monsters Ed Homeschooling Academy)

Christmas Activities Advent Calendar (Do It All Working Mom)

Enfeites de Natal ecológicos #1 (Tranquinices E Lapis Decera)

Top 10 Amazing Holiday Spa Gift Basket Ideas from Amazon (Embracing Destiny)

Top 10 Disney's Frozen Toys For Christmas (Embracing Destiny)

Top 10 Hello Kitty Gifts for Christmas (Embracing Destiny)

12 Gifts that Promote Creative Learning (HSBA Post)

14 Educational Stocking Stuffer Ideas (HSBA Post)

Free God Made Snow EArly Reader and Coloring Book Printable Pack (Children are a Blessing)

Around the World at Christmastime (Year Round Homeschooling)

Christmas Budget and Price Comparison Worksheets for Kids (Year Round Homeschooling)

Christmas Notebooking Pages (Living Life and Learning)

Christmas Tracing Worksheets (Living Life and Learning)

HEARTS FOR HOME BLOG HOP GUIDELINES
Welcome! Please make sure to link directly to your post (not your main blog page) so we can find the fabulous post you want to share. Each week we will select someone's blog link up that our readers "clicked" with the most and share some of my favorite posts that were linked up! Thank you!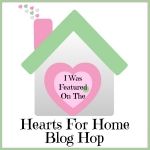 Please make sure to display our Hearts for Home button on your blog post, sidebar or tabs. This button can be found on the blog hop each week. Kindly make sure to visit some of the other wonderful bloggers who have linked up here. Were you featured on our Hearts for Home Blog Hop? Congratulations! Grab a Featured button to proudly display on your blog or website.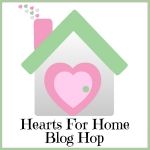 We invite everyone to get "clicking" and have some blog hopping fun!
We have created a Pinterest Board so that we can help spread the word on the blog's that have had featured posts on our Hearts for Home Blog Hop. Make sure to stop by and check it out HERE.