I have been struggling of late to stay organised and having our day run smoothly. Its been a challenge to say the least.
I had been on my daily Pinterest pinning marathon (there really isn't another word for it, LOL) when I came across this pin and thought I would give it a bash, I couldn't hurt right?
For the last 2 days (starting on yesterday) I packed the kidlets' snacks and got their daily juice allowance ready in the mornings and popped the Tupperware container in the refrigerator. We have 2 designated times for snacks, 10am and 3pm. When the snack times arrived I, or Noo, get the snacks out. It works well for all and I'm much less flustered now 🙂 Lunch is the next obstacle I'm going to tackle, but that will only happen in the new week once my new snack making routine has become a habit. No point in overwhelming myself with to many new routines all at once.
This is what our new "snack station" looks like
Day 1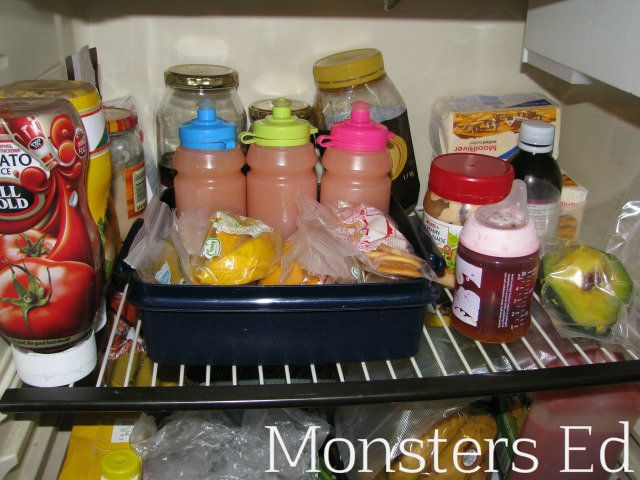 Each child has a designated colour. This works well for us. Noo is green, Koko is blue, Fifi is pink and Pixie is yellow. These match their workboxes.


Morning snack: Orange wedges
Afternoon snack: Savory biscuits and droë wors (dried sausage – kinda like beef jerky, only better)
Day 2


Morning snack: Vanilla flavoured custard with star sprinkles and vegetable/legume rice rusk


Afternoon sweet snack: Savoury biscuits, secret message sweets, jawbreakers for the boys and chocolate covered marshmallows for the girls
The snacks are packed into little Disney Princess/Tinkerbelle/Toy Story snack bags, I bought these at Dischem