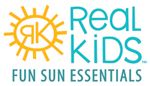 In February this year, I was fortunate enough to attend the Gauteng Mom Blog Meetup and was given the opportunity to review the Real Kids Sunglasses, imported into South Africa by O-V Optics.
Pixie just loves her sunglasses. These glasses are AWESOME and virtually indestructible. They are pricey, but well worth it. We will be getting the older 3 each a pair over time.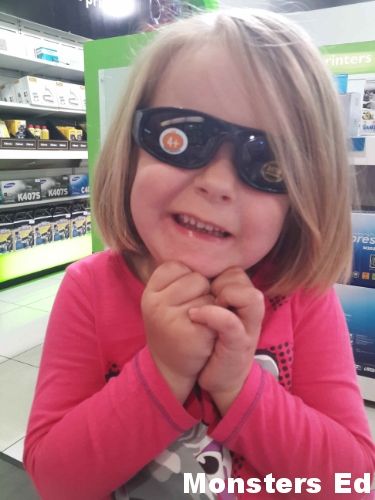 Here are the two available styles
Swag: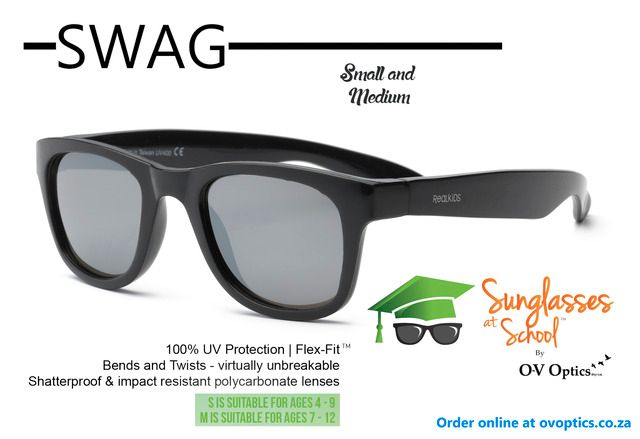 Sport:
Real Kids Shades – Now in South Africa!
100% UV protective sunglasses for children!
Our product-testing program is rigorous and comprehensive. All Real Kids sunglasses are third-party tested to provide 100% UVA/UVB protection as measured by the strictest American, European, and Australian governing bodies.
All our sunglasses are:
100% UVA/UVB Protection
CPSIA Compliant – Lead-free with no bisphenol A and no phthalates
CE Certified
Rx Capable – you can fit your Real Kids Shades with prescription lenses
FDA Approved
Melanoma International Foundation Seal of Approval
The Melanoma International Foundation (MIF) has awarded Real Kids its Seal of Approval. This signifies that Real Kids has met MIF standards for 100% UV protective eyewear for children. MIF developed its Seal of Approval endorsement as part of its mission to prevent serious sun damage and has recognized Real Kids for helping to protect children from permanent UV eye damage.
These sunglasses are perfect for kids. They bend and twist without breaking and offer the best UV protection to the eyes. Watch the video below to see how these awesome glasses sand up to abuse.
What is UV?
UV or Ultraviolet Radiation can be classified as UVA, UVB or UVC according to wavelength
UV light is not visible to the naked eye.
UVA and UVB rays penetrate the eye whereas most UVC rays are absorbed by our ever thinning ozone layer.
When UV is absorbed by a molecule, energy is transferred to the molecule and causes damage to the tissue. This causes changes to DNA, resulting in distorted proteins and death of cells.
Protecting your eyes from UV
A large brimmed hat can provide up to 50% protection from UV
Wrapped sunglasses with a UV 400 filter on the lenses provide maximum protection from UV
Tinted lenses or sunglasses with no UV filter cause the pupils to dilate even more in sunlight than if one were to wear no lenses at all – this allows even more light flood into the eye resulting in increased UV exposure.
Bad sunglasses = MORE damage than no sunglasses!
UV Damage in Children
Children are more vulnerable to UV damage as they have larger pupils and clearer lenses – a greater amount of light penetrates the ocular tissues causing an increased risk of complications.
Children spend more time outdoors – approximately 3 times more than adults.
The lenses in children's eyes do not block as much UV radiation as they do in adults' eyes, putting them at increased risk for sun damage to the eyes.
UV damage is cumulative – when damage occurs it can never be reversed, only treated.
You can read more on the UV Damage Effects on the Eye HERE.

WHO IS O-V- OPTICS?
O-V Optics Pty Ltd – Protecting the vision in your child's future
O-V Optics Pty Ltd was founded, and is owned and operated by Tanya and Zulé. The two head up a team of passionate individuals, sharing strong family values and the belief that they all have the right to protect our children in any scenario imaginable. The O-V Team's mission is to educate and inform about the dangers of UV exposure to the eyes of children, so empowering and enabling you, as a parent, to protect your little treasure.
Sunglasses are a necessity for all, not just an accessory for some!
Tanya qualified as an optometrist from The University of Johannesburg and has extensive experience in practice and in optical sales, having consulted for Johnson & Johnson Medical and Hoya Vision Care. Her perseverance and dedication make her an exceptional problem solver, never giving up until a solution is created. Tanya's broad optical knowledge is the core of the outstanding service and products O-V Optics Pty Ltd deliver.
Zulé, an adventurer at heart, completed her Psychology qualification through UNISA, while travelling the World. She was enlightened and astounded by destinations such as the natural diversity of England, South Korea, Seychelles, and the South of France in the Mediterranean. She filled various positions in various industries learning from many, but ultimately practicing her passion as a Professional Photographer. Zulé's unique worldly experiences give her an edge when connecting with people and ensuring O-V Optics Pty Ltd stick to our core values.
Together the duo traveled the South American continent, spending six months volunteering in the rural countryside, touring cities, and appreciating natural wonders – even undertaking the 4 day hiking journey to Macchu Picchu. The two vowed that they will not return home until they had formulated a solid plan to change the future of as many others as possible for the better. With Tanya's passion and expertise in the optical field and Zule's vision, literally, as a photographic artist her most prized gift, it could be expected that they would want to protect the sight of others for the future. With the shared belief that prevention is better that cure, and that pro-active living is the way to a healthy future they set out on a mission to protect young eyes.
What they Value Most
– Families First – YOUR family, OUR families and The O-V Team as a big, supportive Family
– Open Honesty Always – They are here to give you the facts
– Create Happiness and Fun – They always leave you with a SMILE
– Embrace Creativity and Change – They find new ways to do things betterSunglasses at School
– Always Passionate, Always Humble
WHAT THEY DO and HOW THEY DO IT?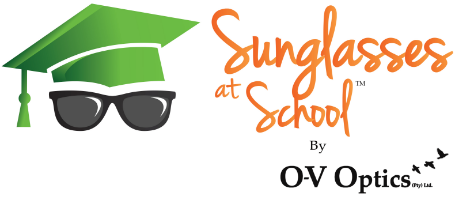 Our MISSION –They create greater awareness of the effects of UV sun damage on the eyes of children by informing parents, teachers and children of the imminent dangers. They encourage the habitual use of UVA and UVB protective eyewear as part of our ingrained culture, and as part of your child's school uniform for maximum protection every day.
They pave the way to the positive societal opinion that wearing sunglasses when outside is a necessity FOR ALL, not only for adults, but their children too. They do this through speaking engagements – directly with you, parents, teachers and children. They provide necessary health and safety information that you may not be aware of as part of The "Sunglasses at School" Program, a FIRST in South Africa. This, in turn, creates the need for a product that can be trusted by parents to offer the desired protection their children need. They source only the best quality in international, children specific frame designs. O-V Optics Pty Ltd distributes your child's ordered sunglasses to member schools directly and a trained professional will fit each pair to your child's unique features to ensure optimum comfort and protection.
They are the industry leader in the supply of children's sunglasses as they offer unmatched quality and value in our products and services.
Speak to your principal TODAY to become part of The "Sunglasses at School" Program!
Most Importantly WHY THEY DO IT?
They believe the dangers of UV damage to the eyes aren't being spoken about enough and they will make the facts known by educating and informing as many as possible.
They believe YOU, as a parent, have the right to protect your child from any danger that may befall your little one.
They believe you have the right to a quality product that provides value for money and protects your child's eyes adequately.
They believe in providing a quality service, ensuring optimum comfort and safety to your child.
They believe every child has the right to eye protection and aim to establish Charitable Projects in lesser fortunate communities that will provide access to decent eye protection for all.
O-V Optics Pty Ltd – Protecting the vision in your child's future