Since I ordered the Grade 2 curriculum, I started planning our quarterly terms (10 weeks each) and our breaks/holidays. Now that I've been homeschooling for a year and I have some sort of idea what to expect from Noo and the curriculum.
Our curriculum arrived on Friday and I've been going through the manuals and assessment books to work out the order that the work needs to, and will, be completed next year. I've also started our stationery and supply list for our first term.
We officially start Grade 2 on 25 January 2010.
Our schools terms will run as follows:
1st Term: 25/01/2010 – 01/04/2010
2nd Term: 12/04/2010 – 18/06/2010
3rd Term: 05/07/2010 – 10/09/2010
4th Term: 20/09/2010 – 26/11/2010
So we live in a tiny townhouse and there is barely enough space for the 5 of us, we will, hopefully, be moving into a bigger space in March.
Anyway, I decided that our school area needed a facelift.
Before

After. It's not 100 % done, I still need to buy more storage drawers, but here you at least get an idea. We've always done our school work at the dinner table, and it was just taking up way to much space so I put the Book shelf on top of it and made a desk out of it.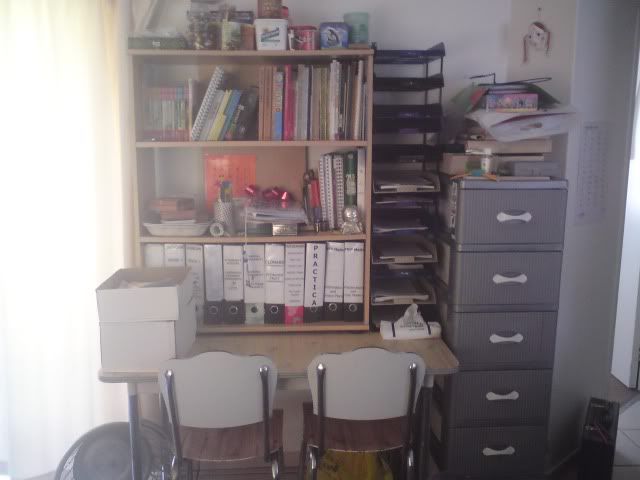 I'm busy redoing our workboxes, the shelving on the left of the bookshelf are our current workboxes, but those will be changing to drawers soon.