Once in a blue moon, a special pet comes along. When Mandy adopts the best cat at the shelter, she doesn't realize it has a big secret and an even bigger personality.
Julia Dweck has done it again!!! With the beautiful illustrations by the very talented Erika LeBarre, this story book is sure to catch your little one's attention.
Written in rhyme, Blucy is an adorable and fun story, perfect for preschool story time and as a read aloud for early readers. The kidlets loved it and even Pixie (23 months old) has asked for the "kitty story" at bedtime. I highly recommend it!!!
My kids L.O.V.E. all of Julia's books and we own quite a few of her fantastic stories.
Blucy, is now available for pre-sale on Amazon. Reserve your copy today at this special low price. It makes the purrrrr-fect gift, too. Published by Xist Publishing.
Who is Julia Dweck?

Julia writes children's stories for digital and traditional publication. Her stories span the spectrum of humor, fantasy, and edutainment in rhyme and in prose. Check out her newest eBook, "Blucy," a colorful rhyming romp illustrated by Erika LeBarre. Fun cat facts and activities are also included in this true-blue adventure.
Julia's background in elementary education affords her the opportunity to be in touch with what children want to read and what makes them giggle. She's collaborated with leading artists in the world of children's literature to produce over 20 Amazon eBooks. Her titles have garnered placement on Amazon's bestsellers in children's color picture books multiple times with two #1 bestsellers: PIE-RITS and Zombie-Kids. These titles have been chosen by Amazon Editors for the prestigious "Kindle Daily Deal." Many of Julia's titles have earned placement on Amazon's top ranked lists based on customer review. In her spare time, Julia is a designer of educational adjuncts for children's literature, and has worked with such notable publishing houses as Penguin Young Readers. She presented at the 2011 National Center for Family Literacy for her creative use of technology in the classroom.
Who is Erika LeBarre?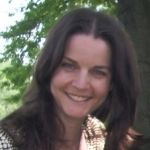 Erika LeBarre has always been exposed to art one way or another as she grew up. Her father worked as a car designer for the big three, and her mother is a ceramicist. Erika's parents always encouraged her creative side. Drawing was her favorite thing to do, especially dinosaurs and monsters as subject matter. Erika graduated from the College for Creative Studies with a BFA in illustration. After graduating, she worked at an art studio with other illustrators and designers for over four years. Since then she has worked as a freelance illustrator out of her home. Her life has come full circle by having the opportunity to teach at the College for Creative Studies.
Julia has kindly offered 4 copies of "Blucy: The Blue Cat" for our first giveaway!!! The giveaway closes at Midnight on Friday 26 July!