Pixie is a very demanding toddler and I often find it difficult to get anything done. I'm pretty sure I'm not the only momma who sometimes struggles to keep a demanding toddler busy when you want to cook, clean or just drink a hot cup of coffee.
I came across THIS on Pinterest and thought I'd give it a bash and see if Pixie likes it.
What you need:
Small feta cheese container, cleaned and dried
Mini pompoms (I started off with 10 and now we have about 80 all together for this activity),
Scissors and patience.
Directions:
Cut a few holes into the lid of the feta container big enough to push the pompoms through.
Pop the lid back on and show said toddler how to push them through and viola!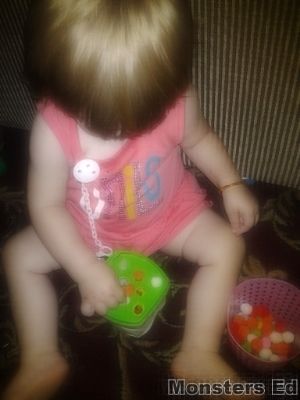 Happy toddler content with keeping herself busy 🙂 Pixie has been at it for over an hour now 🙂 I just keep taking the pompoms out of the container for her. She is sitting on the floor next to me right now as content as can be 🙂
See more Toddler resources HERE